Barefoot Beach Resort Boat Slip Association
(BBR BSA)

| | |
| --- | --- |
| Next Meeting: Our next Boat Slip Association Meeting will be DATE TO BE DETERMINED in the BBR Clubhouse. The annual Owners meeting will be held in February 2018. | |
Boat Slip Owners
: Meeting Minutes and other Boat Slip Assn documentation can be found in
Archive
link above
---
Boat Dock Construction: As of August 2017 we are stepping through the permitting process for our new docks. The State currently is processing our request. We have no precise date but we hope this permitting process completes in the next month or two. After the State we then will step through the County and Town permitting (these are much quicker) and then Speeler Marine Construction can replace our docks with new infrastructure. Once construction starts it will only take about three weeks.
Boat Lifts: We are asking owners to wait until after the new boat slips are installed in late 2017 before installing boat lifts. Note: Boat Lifts require a permit. Have your Boat Lift installer help you with applying for a permit.

Boat Slips are tied to a Condo: Each of the BBR Boat Slip Owners have a Boat Slip Assignment recorded with Pinellas County. This record shows the BBR Condo unit # associated with your Boat Slip. If you have any questions about this recording you can contact Chuck Grube of the Pinellas County Property Appraiser's Office at 727-464-3352.

---
Key Contacts:
Boat Slip Maintenance Fee Questions, other Questions? Please call John Laveck, our Boat Slip Assn Manager at Associa. He can assist you with any questions you might have. His contact info is:

John Laveck
A
ssocia Gulf Coast, Inc.
(877) 322-1560 work, (813) 386-2567 cell
jlaveck
@associagulfcoast.com
9887 Fourth Street North, Suite 301
St. Petersburg, FL 33702
www.associagulfcoast.com
The BBR Boat Slip Association is a Sub-Association to the BBR Condo Association. The BBR BSA Board is made up of two members from the Condo Association Board and three Boat Slip Owners members. The BBR BSA Board can be contacted by email at bbcaboard@barefootbeachresort.org or by commenting on the Condo Assn Owner Blog
---
Boat Slip and Boat Lift Rules – The following are a few of the key BBR BSA Boat Slip and Boat Lift rules:
-- Only BBR unit owners or BBR rental guests are allowed to use a boat slip
-- Slip Owners are responsible for boat lifts and the boat lift poles installed in their slip. Applicable permits for Boat Lifts must be obtained and all codes must be followed. Only 'topless' lifts (as commonly referred to in the industry) are allowed, e.g., lifts cannot have cross bars over the tops of the pilings
-- BBR BSA Board approves installation of Boat Lifts
-- The BBR BSA is responsible for catwalks and tie poles in between slips
-- Lift equipment shall be stainless steel or aluminum-painted marine grey in color, no roofs or top cross members are allowed
-- Lift poles shall be wrapped in protective plastic sheath to protect against worm infestation, and driven into the seabed to a depth of 8 to 10 feet
-- Owners are responsible for and shall pay for all separately metered utilities for their slips
-- No carpet of any type shall be allowed on the docks at any time. Door mat type pads for cleaning shoes and boarding steps shall not be left on docks
-- Dock boxes are allowed subject to the style and type as specified by the BBR BSA Board
-- Installation of lights of any kind requires prior written consent of the BBR BSA Board
-- Owners and slip users shall not cause or permit anything to be hung, displayed, or posted on boat slip facilities (or on boat while in the slip) without written approval of the BBR BSA Board
-- Improvement or alterations to the boat slips require written consent of the BBR BSA Board
-- Cleaning or painting of boat hulls is not permitted at any time at the docks. Only scuba cleaning is permitted.
-- Liveaboards are strictly prohibited

---
The BBR BSA Board:
*Bruce Bornick, President *appointed by BBR Condo Assn as per docs
*Denise Reilly, Vice President and Treasurer
Georgene Diaz
Tom Vanater
Scott Wetmore

---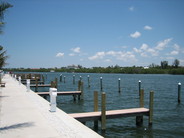 Barefoot Beach Resort Boat Slips For Rent
Owners and Guests of Barefoot Beach Resort can rent a Boat Slip. To arrange a short-term boat slip rental please contact Barefoot Beach Vacation Rentals at 727-593-5303.
Click HERE for our Boat Slip Lease Agreement
.
If you are interested in a long-term boat slip rental (3 months or longer), please contact the Boat Slip Association Board at
bbcaboard@barefootbeachresort.org
.
---